The following links chronicle Jon and Care's aviation adventures - click on the picture or the link next to it for more pictures and details of the event...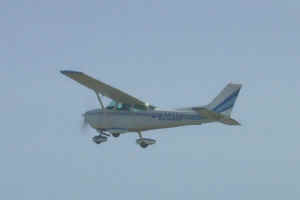 Jon's first solo - April 2001, Jon flies N20508 alone for the first time.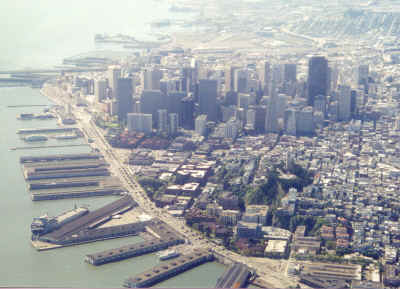 Jon and Geof's Bay Tour - Accompanied by Lew, Jon's flight instructor, Jon and Geof do a complete tour of the bay and the Buddhist temple in Sonoma County.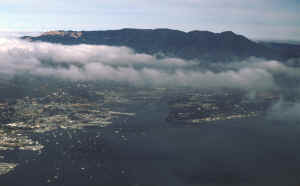 Care's Bay Tour - Care takes a cloudy tour of the bay with Jon and Lew. She gets to hear us navigate Class Bravo airspace down to San Carlos.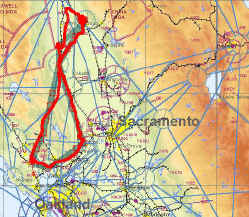 Jon Solo to Chico - July 2001. Jon takes his long cross-country flight to Chico - only getting mildly lost in the process.



Mallory Visit - August 2001, our niece, Mallory comes to visit and Jon picks her up at the Oakland airport in 508 with Lew accompanying.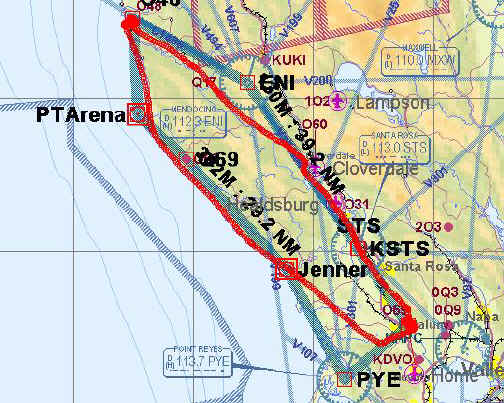 Jon's First Passenger - September 2001. Jon takes Care to Mendocino as his first passenger after passing his private pilot exam.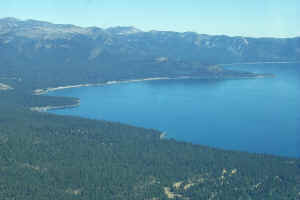 Trip to Lake Tahoe - October 2001. Jon and go to Lake Tahoe and get checked out to rent at the Truckee airport.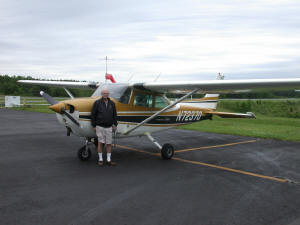 North Carolina Flight - May 2002. Jon and Care visit Jon's parents in North Carolina. Jon and his dad rent a plane and fly over Lake Lure.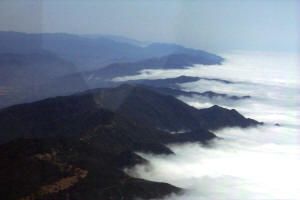 Flight to Santa Barbara - June 2002 - Jon and Care fly a rental plane to Santa Barbara for a reunion, accompanied by Lew. Jon makes an instrument approach into Santa Barbara in actual IFR conditions through the fog.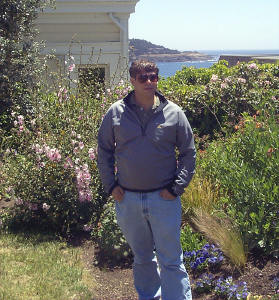 Lunch in Mendocino - June 2002. Jon and Care fly to Mendocino for lunch.

New plane - 97920. September 2002. Jon purchases a 1979 Cessna 182 - tail #N97920.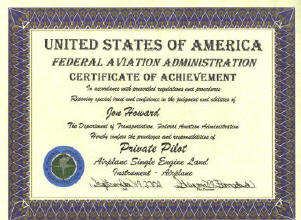 Instrument Rating -- Immediately after purchasing 920, Jon completes his instrument rating.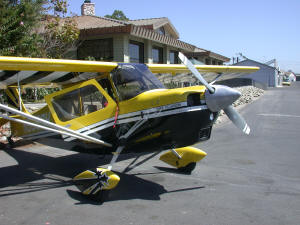 Emergency Maneuver Training - Immediately after the instrument checkride, Jon flies down to Santa Paula for a special course in emergency maneuvers - learning recoveries from spins, spirals, inverted flight, power failures, and control failures.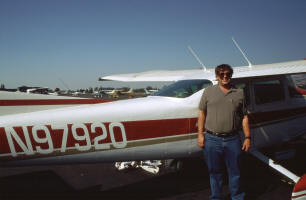 Bay Flight - October 2003 - Jon and Care tour the bay.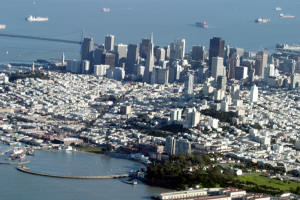 Bay Tour - December 2002 - Jon and Care tour the bay again.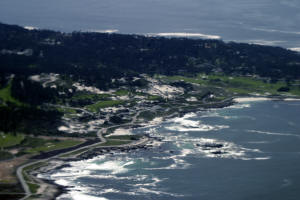 Lunch in Carmel - March 2003. Jon and Care fly down the California coast to the Monterey Airport and take a taxi over to Carmel for lunch.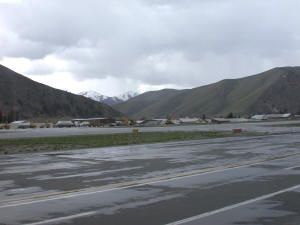 Sun Valley - May 2003. Jon and Lew flew a friend of Lew's to Sun Valley, Idaho to inspect a puppy for sale. We flew 11 hours through a variety of conditions.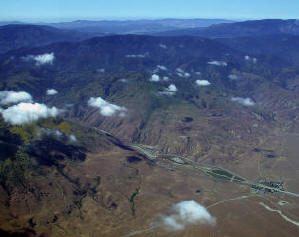 Southern California Aeroventure - May 2003. Over Memorial Day weekend we flew to Southern Calif to visit Jon's sister and family and our friends Jim and Tisha and family.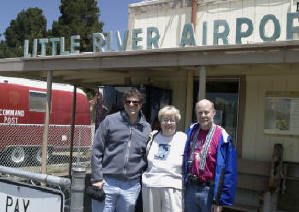 Boyd and Barb Visit -- May 2003. In May 2003, our friends Boyd and Barb came to visit. We flew to Mendocino for lunch (a trip planned for the previous year that Care and I had to do on our own because Boyd and Barb cancelled their trip to California). We then flew a nice bay tour before returning to O69 - Petaluma.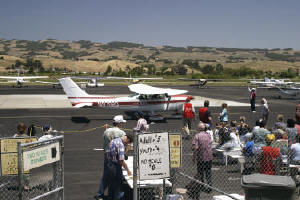 Penny a Pound - June 2003. Jon flew for Penny-a-Pound, a Petaluma Area Pilot's Association fundraiser. He flew 10 sorties over a 4 and 1/2 hour period and got to see what flying for the public is like. Fortunately no adults panicked and no little kids threw up.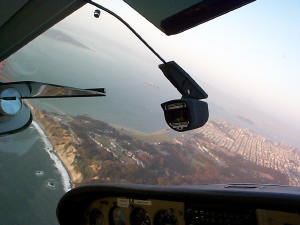 Bay tour with Rich and kids - June 2003. Jon took his friend from Chicago and his children on a Bay Tour.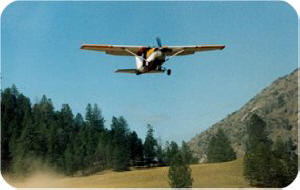 Idaho Backcountry Flying -- July 2003, Jon flew to McCall, Idaho for a backcountry flying course with McCall Mountain Flying. The course took 4 days - with three days of flying instruction - canyon flying and landings/takeoffs at very challenging trips in the Idaho backcountry along the Salmon River.
Photo courtesy of McCall Mountain Flying, LLC.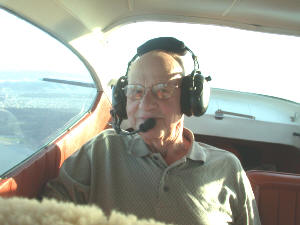 Parents Visit -- October 2003, Jon's parents visited. We flew to Lake Tahoe, Mendocino, and on a Bay Tour. In the process we saw a taildragger ground loop and crash at Petaluma Airport - no injuries, except to the pilot's pride.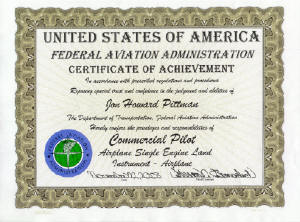 Commercial Certificate - November 2003. Jon was awarded his commercial pilot's certificate.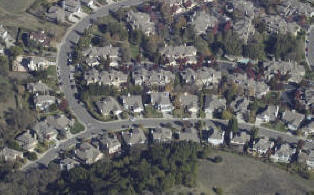 Care's Scenic Flight. November 2003. Jon took Care for a flight around Sonoma and Marin Counties.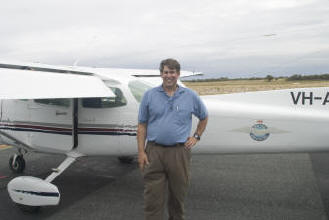 Perth. January 2004. Jon and Care took an aerial tour of Perth, Australia with an Australian flight instructor in a C-172.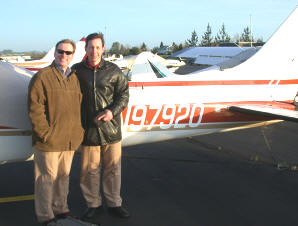 Jim and Ken's Excellent Aerial Adventure. March 2004. Jon took his colleagues Jim and Ken for a bay tour.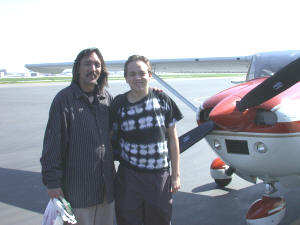 Jon's First Angel Flight Mission. March 2004. Jon flew his first mission for Angel Flight West transporting David and Nick (recovering from a kidney transplant) from San Jose to Truckee.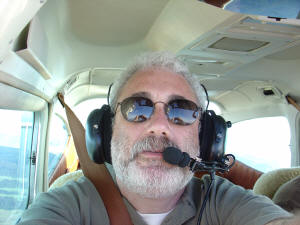 Larry's Excellent Aerial Adventure. March 2004. Jon and his friend Larry took a bay tour across the bay and up the coast.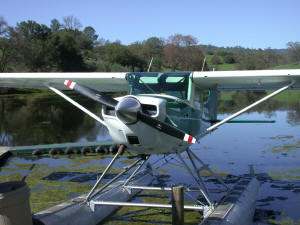 Seaplane. March 2004. Jon took a weekend seaplane flying course in the Sierra foothills in Calavaras County. He now holds a single-engine Sea rating.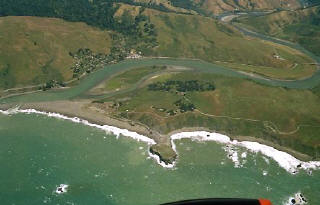 Geof and Kath. June 2004. Our friends Geof and Kath came to visit. We flew a bay tour and went to Mendocino for lunch.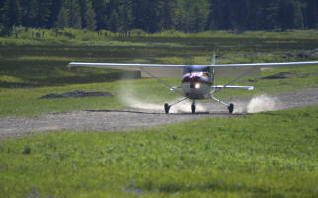 Sulphur Creek. June 2004. Care and Jon went to the Advanced Mountain and Canyon Flying Seminar in Sulphur Creek, Idaho.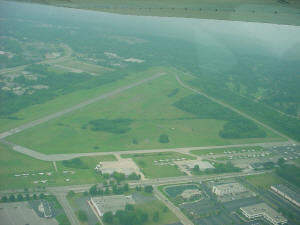 Ohio. July 2004. Jon and Care went to Ohio to visit relatives and flew a rented C-182 out of Blue Ash airport around the greater Cincinnati area.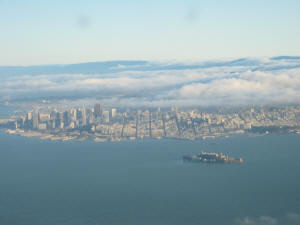 Deborah and Lee. July 2004. Jon took Deborah and Lee on a bay tour. The city fog was rolling in.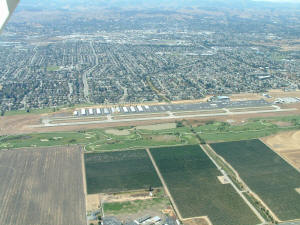 Guanpei. August 2004. Jon took Guanpei and Jim, visitors from China, for a bay tour. Guanpei got good shots of the O69 takeoff sequence.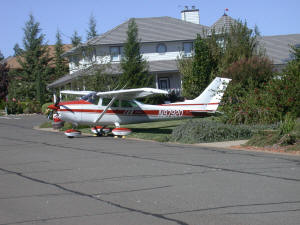 Cameron Park Fly-in. October 2004. Jon, Care, and Ann Marie flew to Cameron Park, near Sacramento, for a car show and old airplane show. Jon got to park on the the street.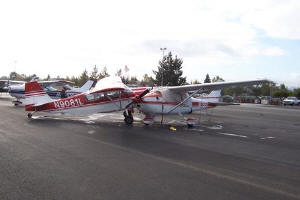 RIP N97920. October 2004. As we were preparing for a trip to Santa Barbara in our plane, a pilot attempting to start a Citabria on the other side of the taxiway lost control of his airplane and it crashed into our aircraft - causing extensive damage.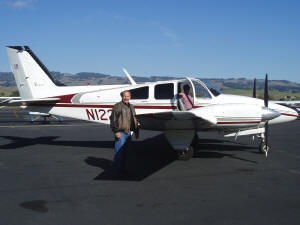 Multiengine Rating. November 2004. Jon qualified for his commercial multiengine rating. The means that the FAA deems him capable of flying an airplane with more than one engine. Of course, the insurance company is a different matter. It means there are twice as many things to go wrong and it costs twice as much to fix.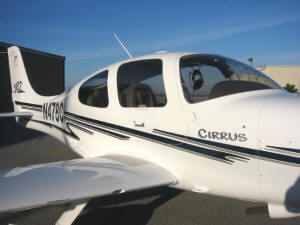 N478C. February 2005. Jon purchased N478C, a 2002 Cirrus SR-22. It is a faster, cleaner, and more advanced airplane than his previous airplane. There is a silver lining to the dark cloud of the accident that destroyed N97920.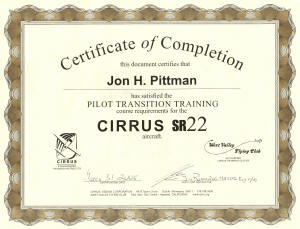 Cirrus Certification. March 2005. Jon completed Cirrus Transition training through West Valley flying club so he is no qualified to fly N478C.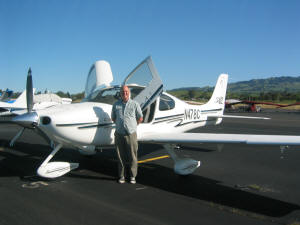 First Cirrus Passenger. Our friend Dick visited in April 2005 and was Jon's first non-instructor passenger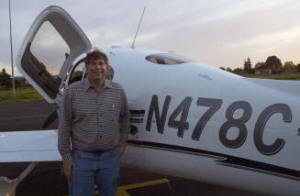 Evening Flight. Care went on an evening flight in the new Cirrus.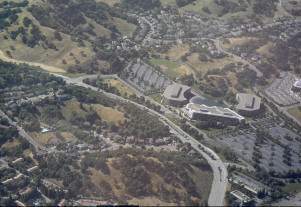 Fred Flight. Jon and Fred went on a flight in May 2005 around the county and over their neighborhood.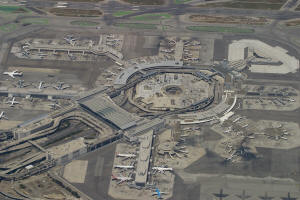 Monterey Flight. On Memorial Day weekend, 2005, Jon and Care flew to Monterey. We flew VFR right through SFO Class B airspace and got some great views of the city and SFO.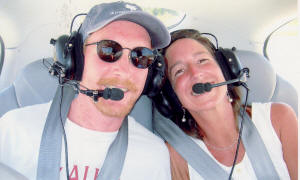 Scott, Amy, and Gordon. On July 3, Scott and Amy were visiting our friend and Amy's sister Leslie. Scott, Amy, and Gordon went on a bay tour including a stop at Oakland.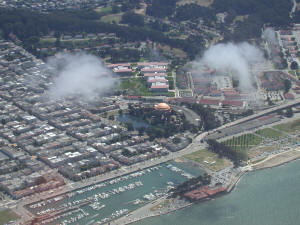 John and Diane Bay Tour. In July 2005, we took our friends John and Diane on a bay tour.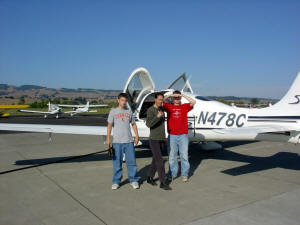 Larry, Martha, Jake, and Adlai. In August 2005, our friends from Seattle came for a visit.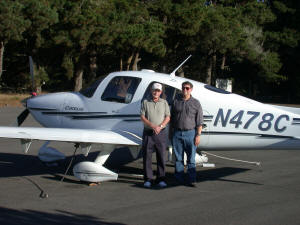 Sea Ranch with Jon's Parents. In November 2005, Jon and his Dad flew into Sea Ranch for a weekend.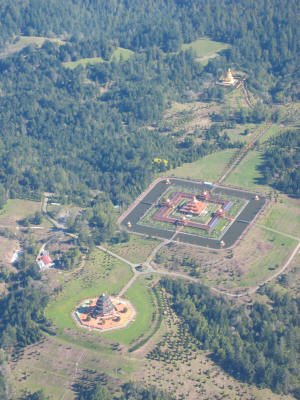 Nick and Cynthia. In February 2006, our friends Nick and Cynthia visited for a Bay Tour.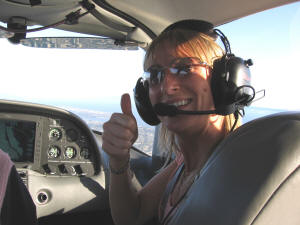 Tracy and Justin. In May 2006, Jon took Tracy and Justin for a bay tour.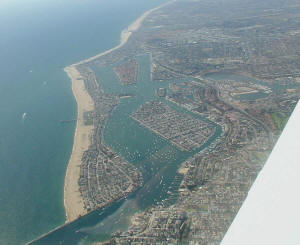 Southern California tour. Labor Day 2006, Jon and Care flew down to Orange County to visit friends and family (photo courtesy Baabcorp)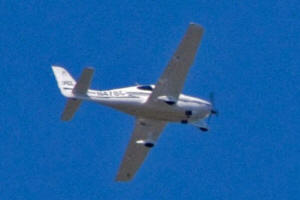 N478C from the air (photo courtesy B. Rus)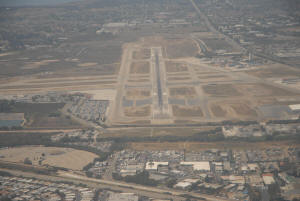 Larry trip to Santa Barbara (photo courtesy Larry F)

Dave's Flight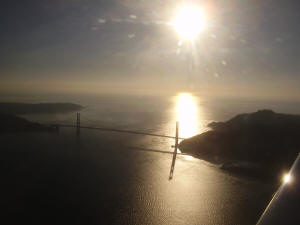 Louie - Steve and Kathy take a bay tour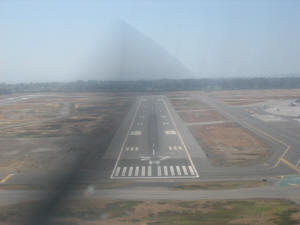 Andi - Andi takes a bay tour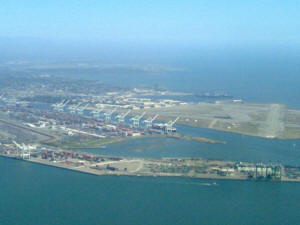 Tom - Tom and family take a bay tour