Highlights of July 2003
July 7th, Monday. They arrived! Jon's sister, Sara, and her husband Rusty were right on time at the SFO airport. We collected their luggage and started our week of touring with a ride through downtown San Francisco and on across the Golden Gate Bridge to Sausalito.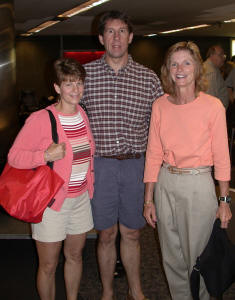 What better place for a lunch and a view of the city but Sam's.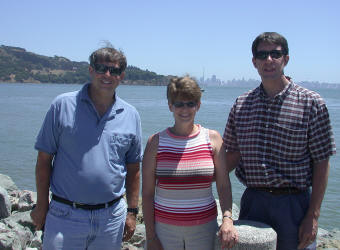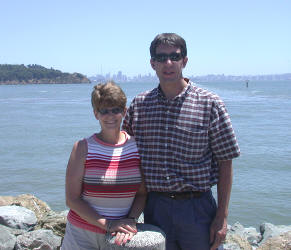 We unloaded the bags at home and headed north. Jon's plane was at the Healdsburg airport so this was the launch point for an aerial overview of the bay area.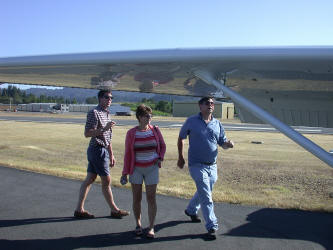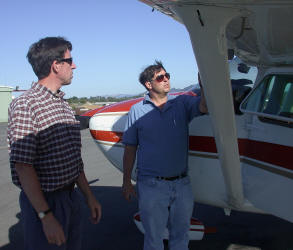 As an aeronautical engineer, Rusty wanted to know all about the plane, including the pilot's credentials!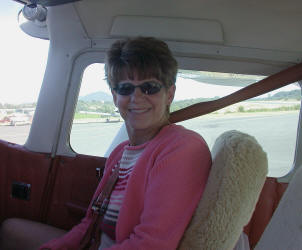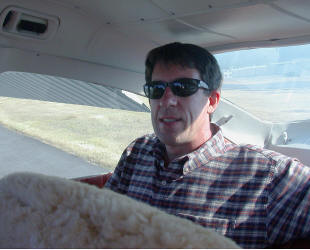 Once strapped in they were ready to takeoff.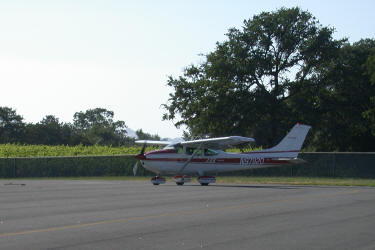 To complete the day, a soak in the hot tub before dinner.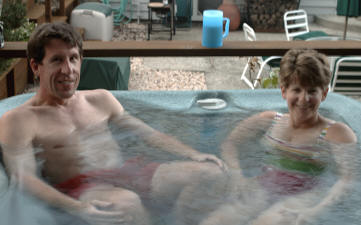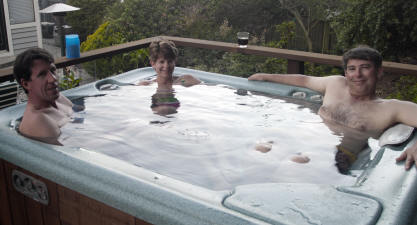 July 8, Tuesday. While Care played in a morning tennis tournament, Asia took Sara, Rusty, and Jon for a hike to the top of Mt. Burdell.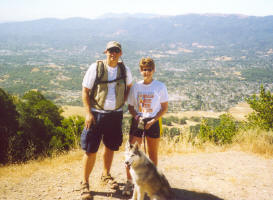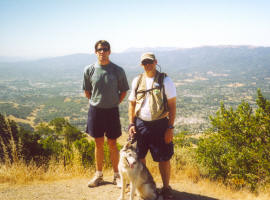 In the afternoon, our typical summer weather had fog over the bay so we started our sightseeing at Muir Woods where it was cool and the fog had already lifted.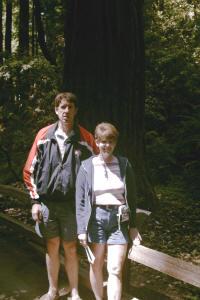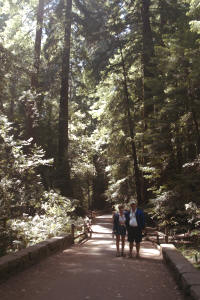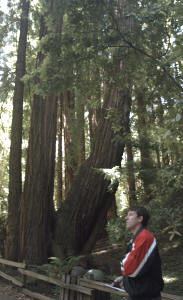 We caught a park ranger's interpretative talk explaining the significance of this grove. However it does not prepare you for the sheer height and beauty of the natural woodscape.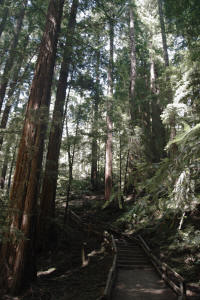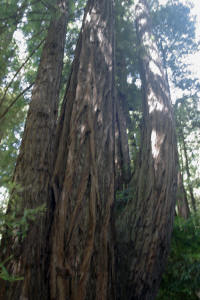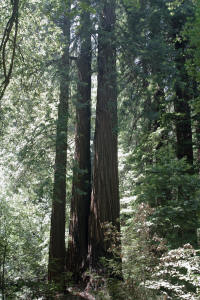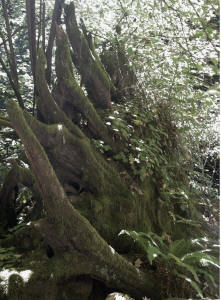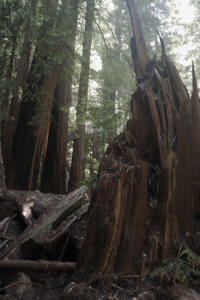 The theme for the week seemed to revolve around the Golden Gate Bridge. We had already driven across the bridge on Monday. Today we explored it by foot - 1.2 miles across. We started at the north parking lot, surveyed the city and then made our way south to the visitors center on the south end.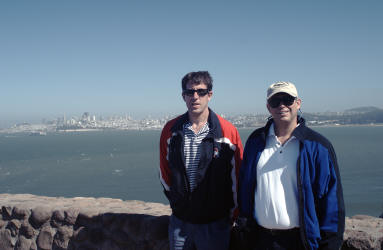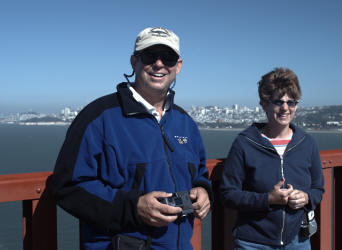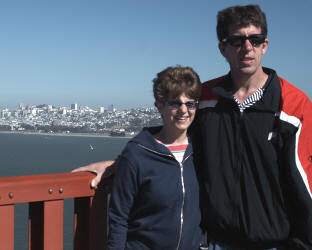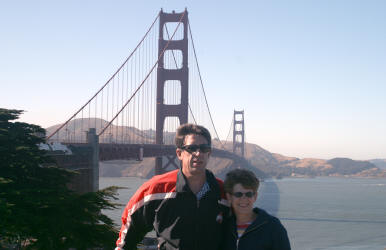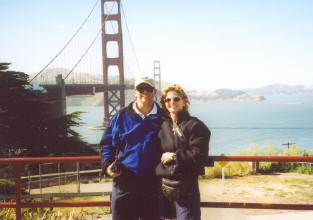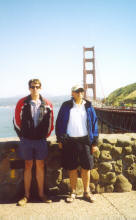 On the bridge, Sara stopped at an emergency phone box to see if they really worked.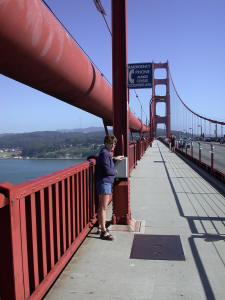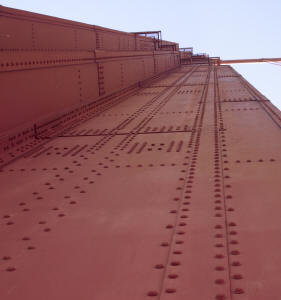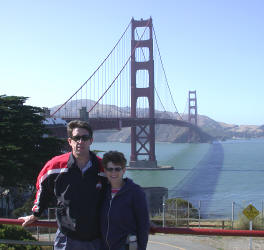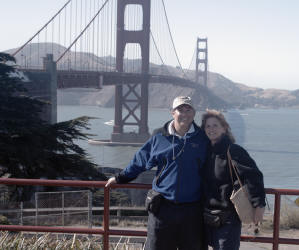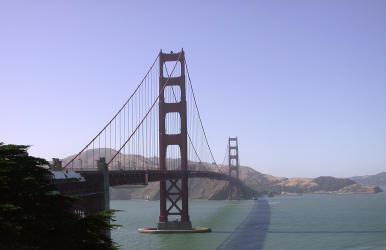 It was a beautiful day on the bay. After returning to the Marin side, we drove up to the Marin Headlands to catch a few pre-sunset views.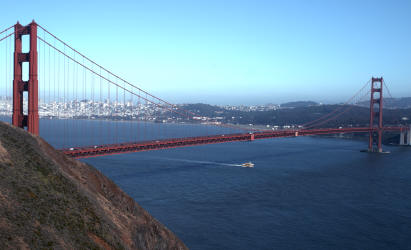 July 9, Wednesday. Rusty and Jon got up early and flew to Irvine to pick up Jon's sister, Jane, and bring her back home for a day of sightseeing with us.
The Marin County Fair opened today so the ladies spent the afternoon volunteering for the Marin Open Space District (making pinecone-peanut butter birdfeeders- Sara was the expert) and checking out the animals, people and artwork.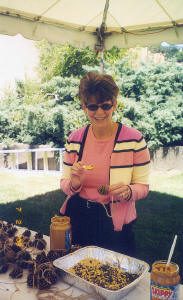 Late afternoon Jane, pilot and copilot returned. So the group headed for the hot tub before dinner. What could be more Marin?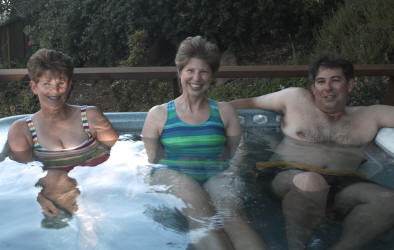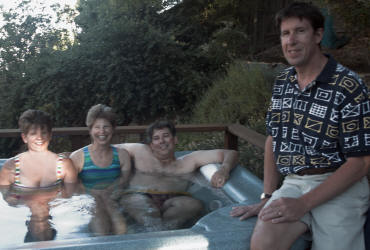 July 10, Thursday. This was a serious(?) day of sightseeing in the city. It started with a ride down Lombard Street. From the top of the hill looking out over the city to the base looking back up the road, it is a very San Francisco experience.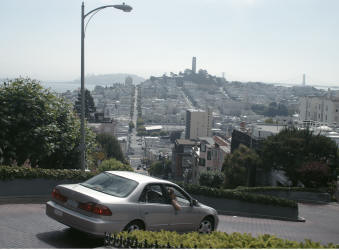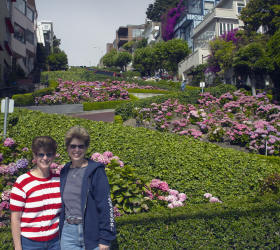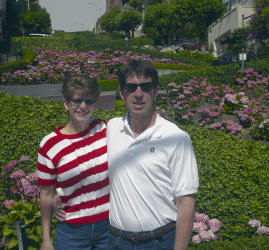 Our next stop was Fisherman's Wharf and Pier 39.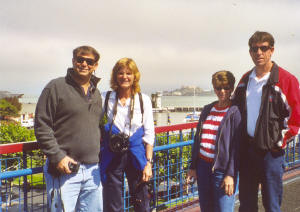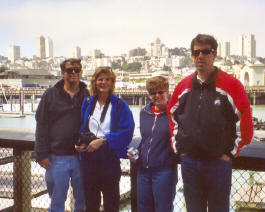 We caught the sea lions barking for a midmorning snack, catching up on some sun and zzz's or just playing with each other.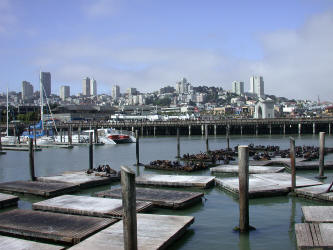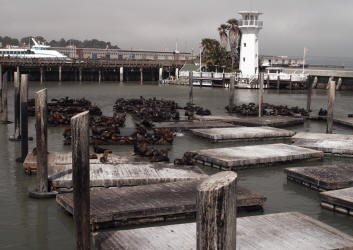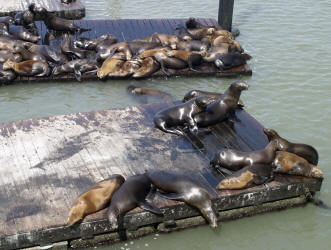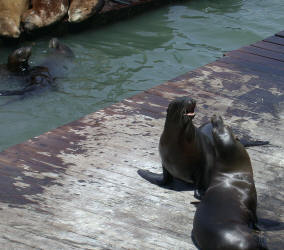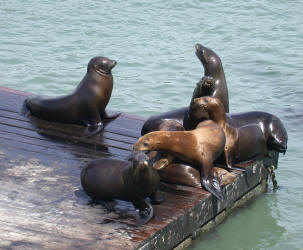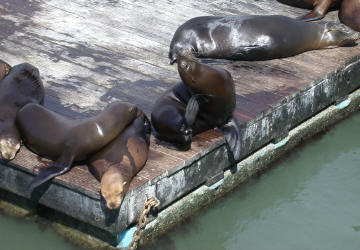 Are these people related?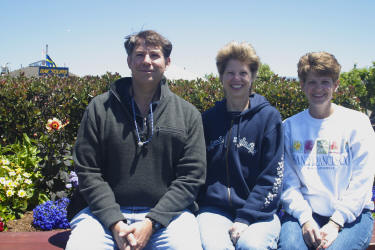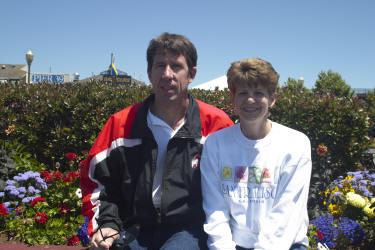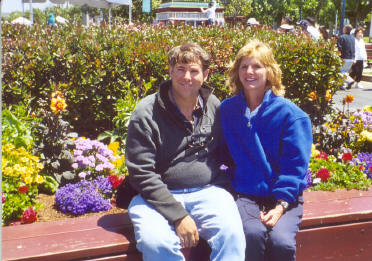 At midday, we boarded the ferry for Alcatraz Island. Although its history reaches back to the Civil War, its modern day exposure from the movies has kept our interest over the years.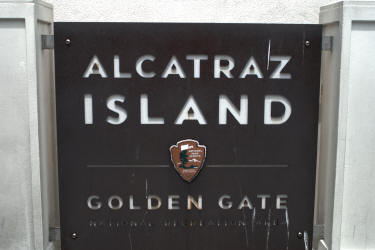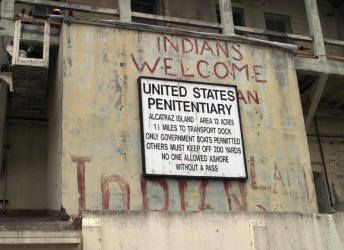 We rented headphones and toured the jailhouse listening to wardens and inmates talk about their time on "The Rock."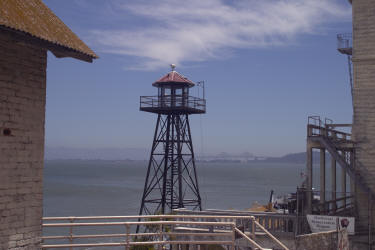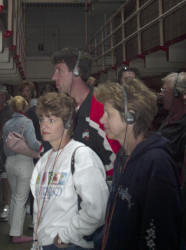 Sara and Jane tried out the accommodations.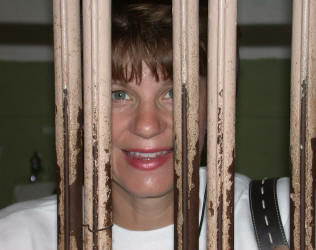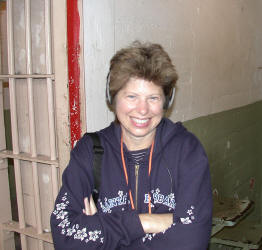 Lunch at Johnny Rockets and then the group rode a cable car, climbed up to Coit Tower, toured through Chinatown, North Beach and back down to Union Square.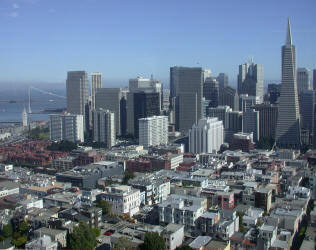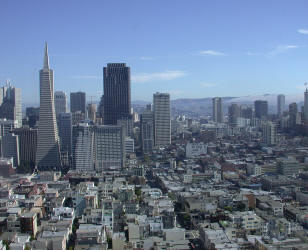 Dinner was on 4th Street in Berkeley at the Rose Cafe. Sadly we said good-bye to Jane as she rushed off to catch her flight back to southern California.

July 4, Friday. During the morning of Independence Day, Jon flew Sara and Rusty on an extended bay tour over to Oakland, across the bay and up into wine country. A Burdell hike took up our afternoon, a hot tub and then dinner at home. We had to rest and prepare for our paddle trip the next day.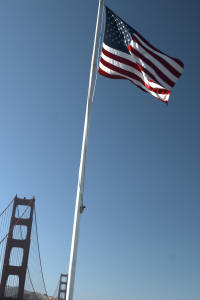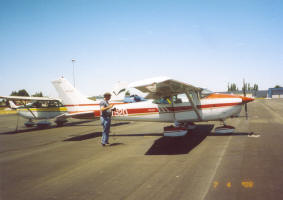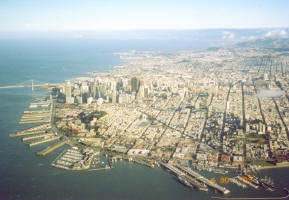 July 6, Saturday. We had an early morning start loading gear for our Paddle the Gate trip with SeaTrek Kayak. The fog was heavy at Horseshoe Cove, our launch site, so wet suits and paddle jackets felt really comfortable as we participated in our land orientation.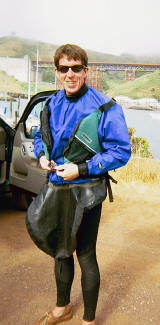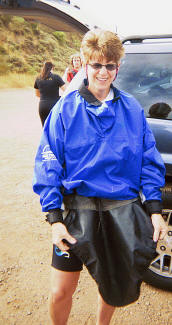 Designer Wear!!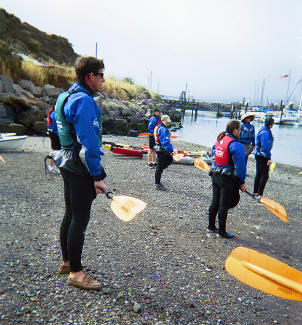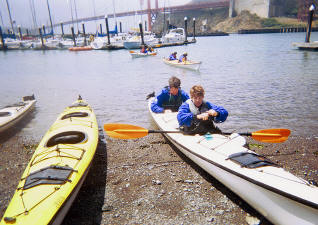 Stroke practice and boat entry/exits are practiced before entering the water. When we finally launched, Mitch, our guide, led us out into the windy bay and around the lighthouse under the Golden Gate. Although we all probably had a moment of "truth", the group paddled hard in the open channel and were rewarded by the tall bridge structure above us and the beauty of the Marin Headlands at the water's edge.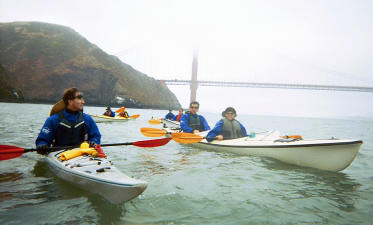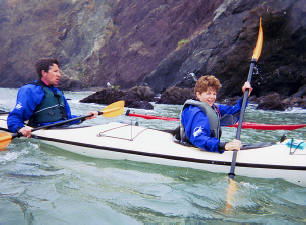 For wild life we saw several sea lion habitats, starfish clusters and schools of fishes swimming in the cold (50-55 degrees) clear water around our boats.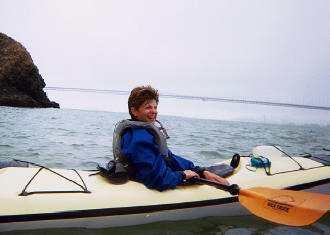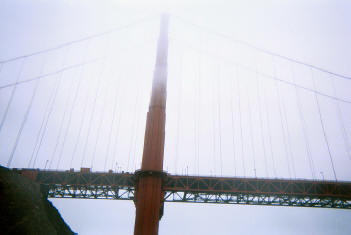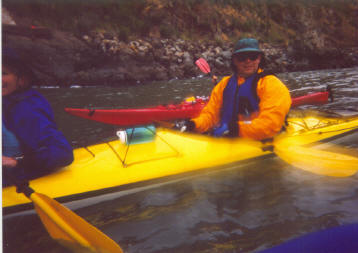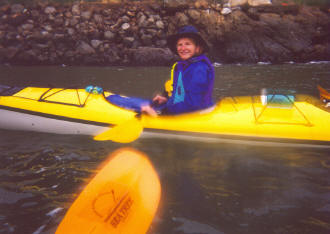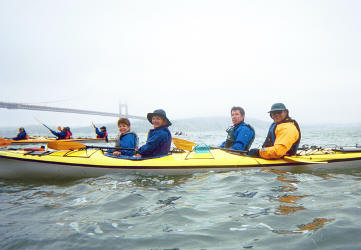 Group photo - looks like a four-man kayak.
One of the areas that we had not spent time in was the wine country. After a hearty lunch at the Dip Sea Cafe, we drove north through Sonoma and into the Napa Valley. The lateness of the day curtailed us from touring and tasting the wineries so we settled for a leisurely glass of wine at the Meadow Wood resort. The setting was relaxed and we enjoyed looking out over the green fairways - reminiscent of North Carolina (without the humidity).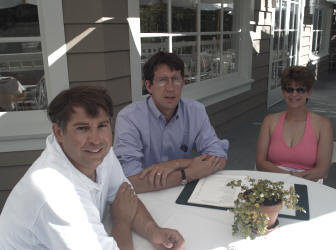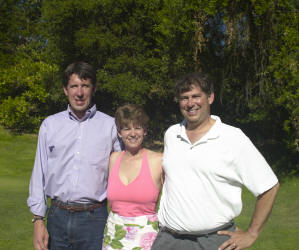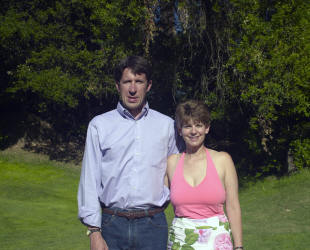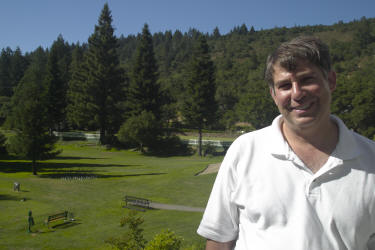 July 7, Sunday. The week flew by and before we realized it, we were back at the airport saying our goodbyes. In review, the Golden Gate was a reoccurring theme for the week. We managed to fly over it, drive/walk on it and then to paddle under it.
The good news is that there are still so many other places to explore and things to do in the bay area. We hope that Sara and Rusty will come back again to pick up where they left off on their adventure.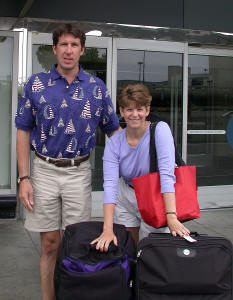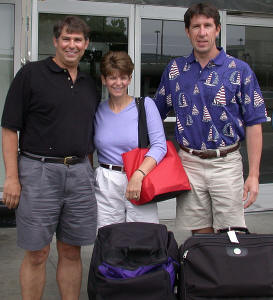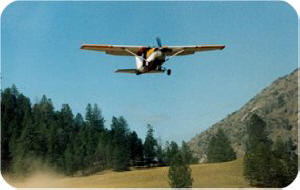 July 8-11th, Jon flew to McCall, Idaho for a backcountry flying course with McCall Mountain Flying. The course took 4 days - with three mornings of flying instruction - challenging canyon flying and landings/takeoffs in the Idaho backcountry along the Salmon River in the Frank Church River of No Return Wilderness. The course operated out of McCall Airport (KMYL). Our 4 afternoons were spent in ground school on canyon flying technique, survival, density altitude, performance, weather, and other topics on aviation safety in mountain and canyon flying. The course was well run and the instructors were great. I had a great time and learned a lot!
Photo courtesy of McCall Mountain Flying, LLC.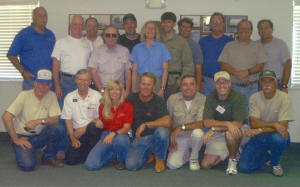 Class Photo courtesy of McCall Mountain Flying, LLC.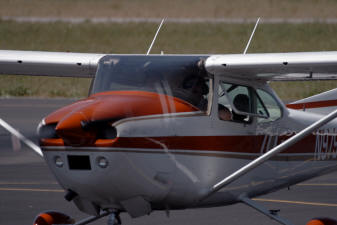 I flew my Cessna 182, 97920, across the Sierras and the Black Rock Desert in Nevada - a trip of over four hours. And I flew 97920 for the entire course into the backcountry.
The course gave me the opportunity to practice my short and soft field takeoff and landing techniques. The secret to canyon flying is control of airspeed.


Pilot Error! - not of the aviation variety, but of the photographic variety! I took my Nikon CoolPix digital camera everywhere with me and had some beautiful photo opportunities. Unfortunately, my memory card was not properly seated and none of the pictures were stored. This was a big disappointment - I was sure I had some incredible pictures of flying, McCall, my classmates, etc to share with you all. However it was a great lesson about reliance on technology in aviation and life in general - trust but verify! Because of this error, I have provided some images courtesy of McCall Mountain Flying and Galen L. Hanselman, Q.E.I. Publishing, author of Fly Idaho.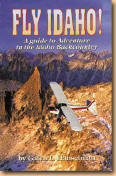 Click on the airstrips shown on the Great Falls sectional below for images of each strip from Fly Idaho and my commentary on each strip.
Copyright © 1998 by Galen L. Hanselman, Q.E.I. Publishing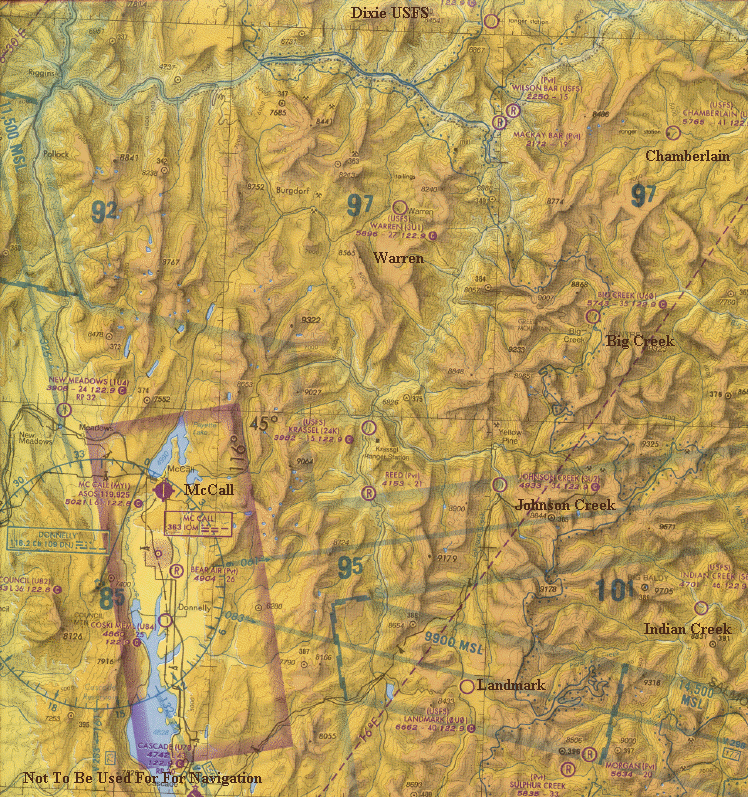 Day 1 - I flew with Art, who checked me out on general canyon flying - including emergency turns and canyon speeds along with short and soft field technique at several strips near McCall.
Day 2 - I flew with Jim M, and we did three strips in a southern loop.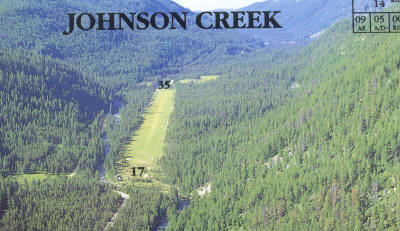 Johnson Creek. This was my first mountain strip and it was quite a challenge. The week prior to my trip a father and his two sons died departing from this strip by flying their Bonanza into the mountainside. Nothing quite focuses the mind as that. The canyon is pretty narrow but the strip is long and wide - all turf. It was a challenge and I did a three takeoffs and landings here. Landing 17, departing 35.
Photo courtesy of Galen L. Hanselman, Q.E.I. Publishing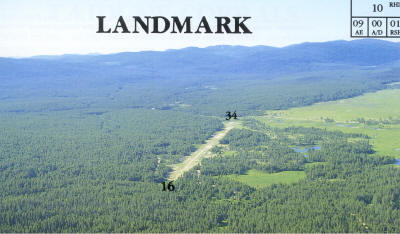 Landmark. This is a strip up the drainage from Johnson Creek. It was relatively easy - being in a flat bowl. The strip was gravel - making quite a racket for my two takeoffs and landings. I landed 34 and departed 16. Later in the day, one of my classmates flying a Mooney had the dubious honor of doing a gear-up landing on this strip. Both he and the CFI aboard walked away with no injuries except to egos. The aircraft, of course got scraped up and needs a new prop and engine work. The school dispatched a tow truck to lift the plane and get its gear down.
Photo courtesy of Galen L. Hanselman, Q.E.I. Publishing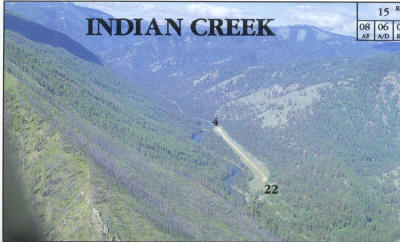 Indian Creek. This was a very challenging strip used by air taxi services to drop off river rafters who float down the middle fork of the Salmon. There was a staging area at the 4 end of the runway for river rafters. A gravel strip with left traffic - the runway is not visible until you start final. I landed 22 and departed 4. Narrow and in a deep canyon!
Photo courtesy of Galen L. Hanselman, Q.E.I. Publishing

Day 3 - I flew with Mark and we did a northern loop and landed at 4 strips.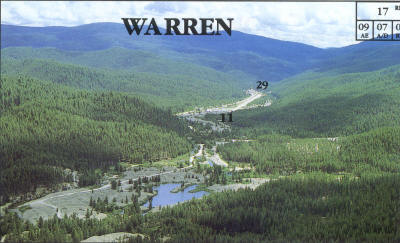 Warren. This was a gravel strip at an old mining town. It was narrower and shorter than some of the other strips. We flew up the canyons from McCall in the early morning. Learned a lot about sun angle and following the canyon. I landed 11 and departed 29.
Photo courtesy of Galen L. Hanselman, Q.E.I. Publishing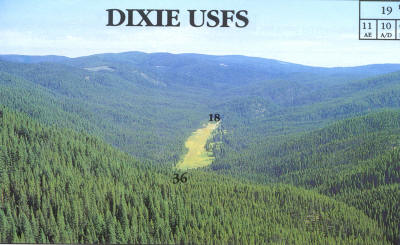 Dixie USFS. This was a beautiful grass strip down in a deep valley used by the Forest Service as a heli-attack bas for fires. It was early in the morning and very tranquil. Looked like a lot of nice hikes started from this strip. I landed 36 and departed 18.
Photo courtesy of Galen L. Hanselman, Q.E.I. Publishing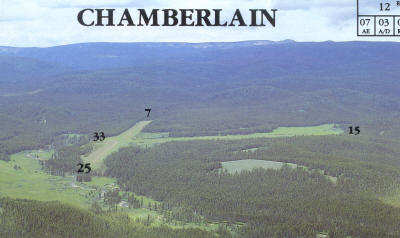 Chamberlain. A big strip in a big bowl. Biggest danger was wildlife on the runway. We saw some on the north-south runway but the east-west runway we landed on was clear. I landed 33 and departed 15.
Photo courtesy of Galen L. Hanselman, Q.E.I. Publishing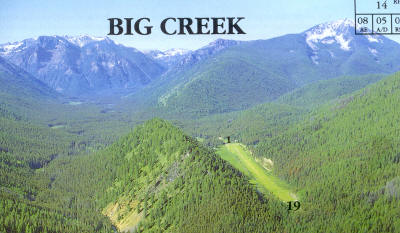 Big Creek. A fun strip that was very challenging. We landed 19. The downwind leg was behind the mountain and I had to fly downwind and base right up against the canyon walls. An invigorating strip to fly. I landed 19 and departed 1.
Photo courtesy of Galen L. Hanselman, Q.E.I. Publishing

Jon and Care went to the Advanced Mountain Flying Seminar at Sulphur Creek in June 2004.
Late in July - on a 95o+ day, we decided to hike a new trail called the Big Rock Trail in the Lucas Valley Open Space. The trail is newly built and in on an easement donated by George Lucas. The trail goes above part of George Lucas Big Rock ranch and we could see some new Skywalker facilities. Nice trail but very hot. Bring lots of water if you want to hike this one!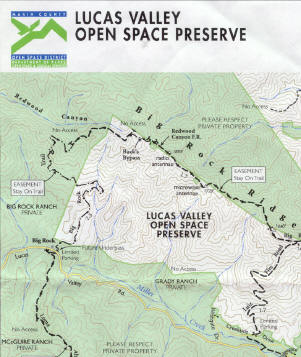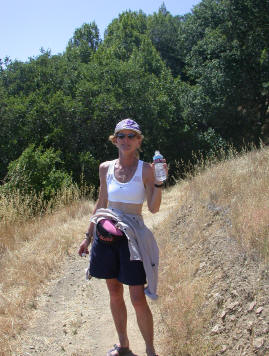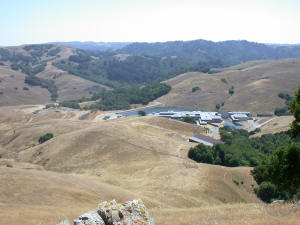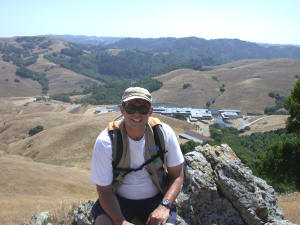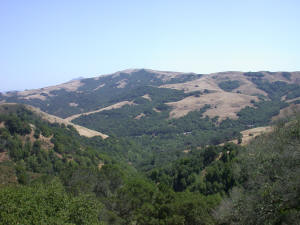 July 26 and 27, Jim and Tisha came from Southern California for a short visit. We packed a lot in, including a hike, a flight, and time in the spa...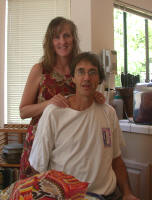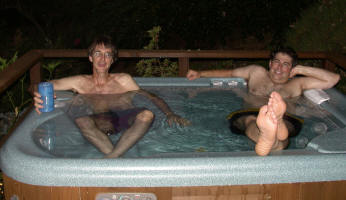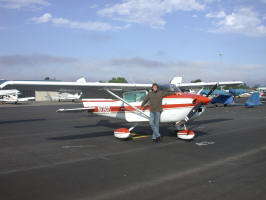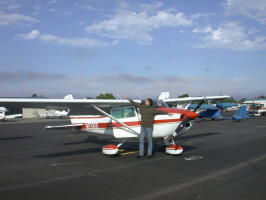 On July 27th, Jon and Care took 97920 to Healdsburg for its oil change and had dinner at The Farmhouse in Forestville - in the Russian River Valley.