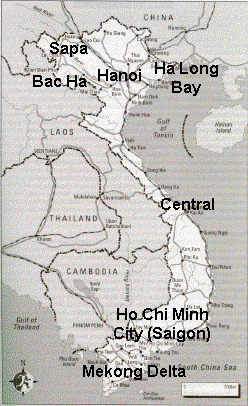 From Bangkok, we arrived in Hanoi after an hour and a half flight on December 18, 2003. Here is where we would spend the next two weeks, including Christmas and New Years, traversing the country from north to south.
Click on labels in the map at left or on a picture below for images from our Vietnam trip.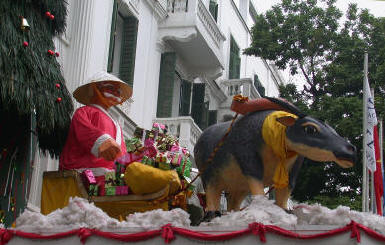 Hanoi -- Hanoi was our introduction to Vietnam. We saw Ho Chi Minh's tomb and toured the old French Quarter. Hanoi was getting ready for Christmas celebrations.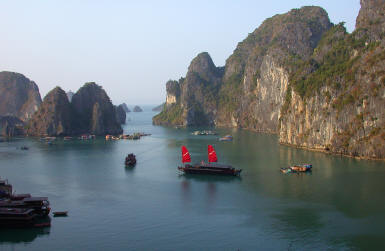 Ha Long Bay --We took a 2 day boat tour of this famous and scenic bay near the Gulf of Tonkin.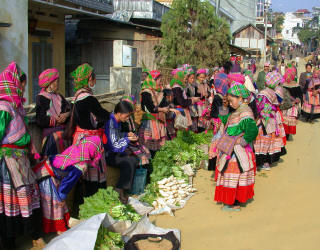 Bac Ha -- on the way to Sapa, we went to the weekend market in Bac Ha, where the locals wear colorful dress and come to trade all kinds of food and textiles.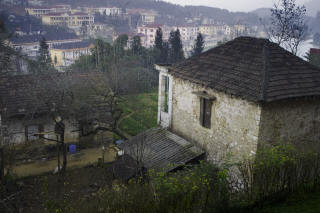 Sapa -- we hiked in the North Vietnamese hills among Hmongs, Zhao, Tays and other ethnic groups.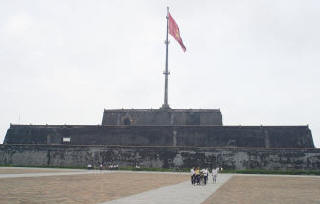 Hue-- we spent Christmas in Hue visiting the Citadel, which was the site of one of the fiercest battles of the Tet Offensive during the Vietnam War and also visited Danang.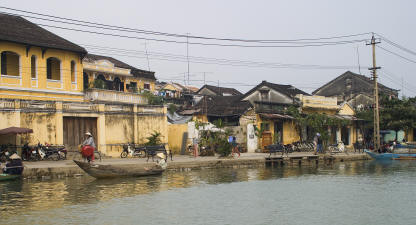 Hoi An -- this is a traditional Chinese style fishing and tourist town - used as the set for Choyon in Michael Caine's The Quiet American.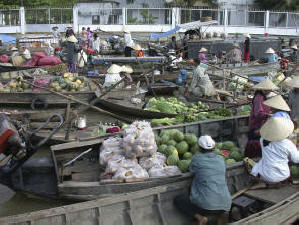 Mekong Delta -- we visited the towns of Can Tho and Chau Doc as well as touring the river and visiting the site of Viet Cong Central Command for the delta.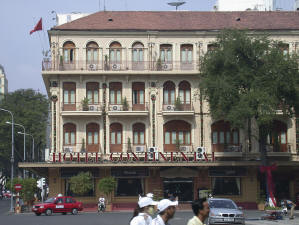 Ho Chi Minh City (Saigon) -- we spent New Years Eve in Saigon and visited lots of famous places from the war.