Dec. 19, Fri.- We spent the morning riding to Ha Long Bay. The three hour drive took us through the Red River valley filled with fields of corn (second season crop after rice harvest), rice paddies and near the coast, controlled shrimp farms. The landscape transforms to an industrial landscape (hydro electric generation, coal mining, manufacturing plants) as we move further east and closer to the Hai Phong port. Midway, we stopped at the Chinese equivalent of a "Friendship" shop. The government operates the shop and employs handicapped and disabled people to copy pictures, mainly from postcards, on to canvas by embroidery - a form of sew-by-number.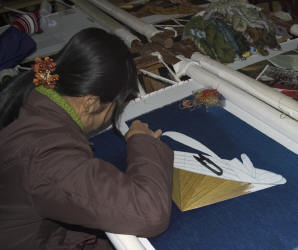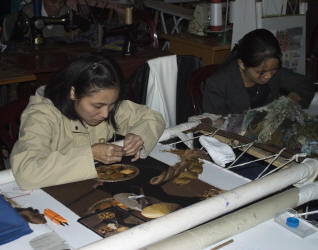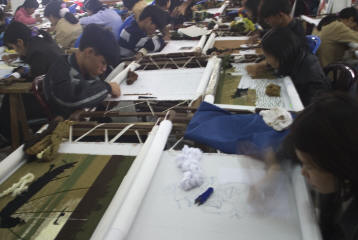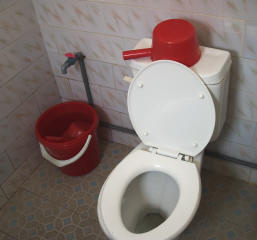 The coastal area attracts foreign tourists and local vacationers to Bai Chay, (one of the twin towns that comprise Ha Long- built in 1994). Ha Long and the surrounding bay area has grown from 3,000 to 1.3 million people in ten years. Accommodations are equivalent in the number of beds as the city of Hanoi. Declared a UNESCO World Heritage Site in 1974, the tranquil bay consists of 1,500 sq. miles with some 3,000 limestone islands (similar to those we saw off of Phuket) jutting up throughout the emerald colored waterway. Caves and grottos dot the bay created by the bizarre rock sculptures. Ha Long means "dragon descending" and originates from local legend about a celestial dragon barreling out of the mountains, carving deep valleys and crevices with its tail on its descent to the sea. The dragon is said to live under the bay to this day.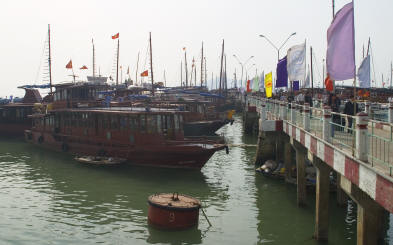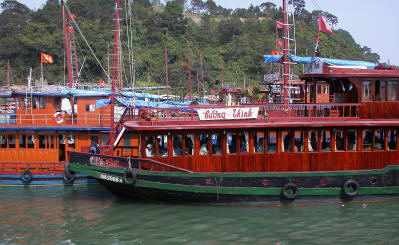 Here we embarked on a two day cruise with Huong Hai Junks. Dock space is a premium so we crossed several boats prior to boarding our compact vessel, consisting of six bedrooms: 2 narrow beds in each room with a shower and toilet. The junk was only three years old, built at a cost of $100,000 with highly lacquered wood giving it a look of more seniority than it deserved.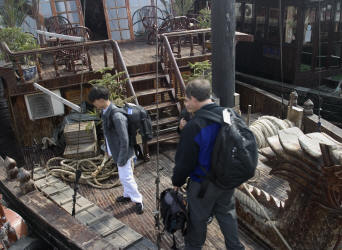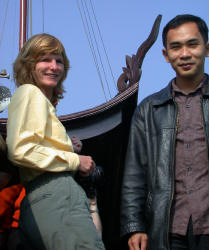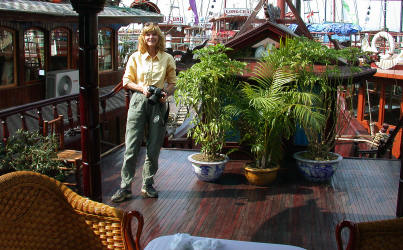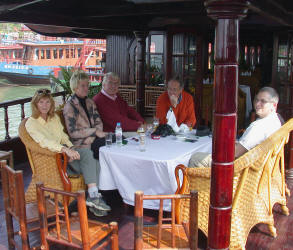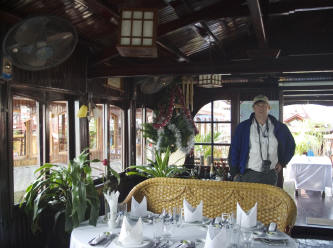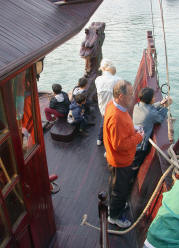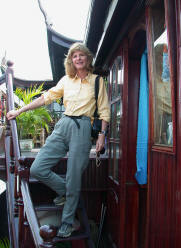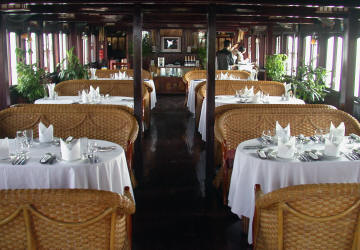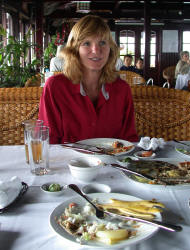 We settled down to a slow chug away from port and into the main bay. Along the way we encountered curious locals making their way by boat through human power or sometimes by small motors.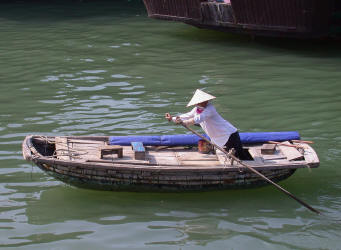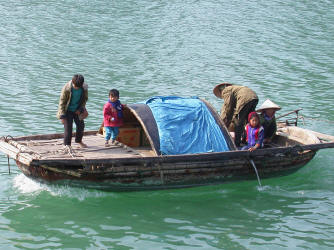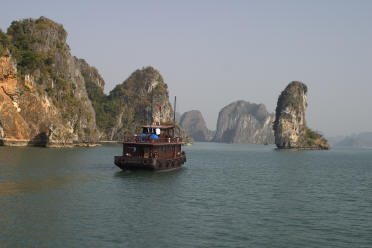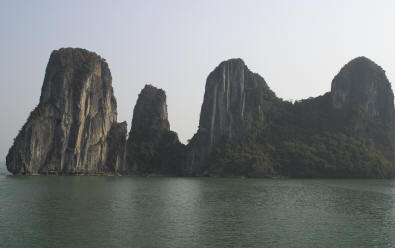 We stopped at Surprise Cave, a huge mountain cave, filled with massive stalactites and stalagmites resembling beasts, birds and human forms.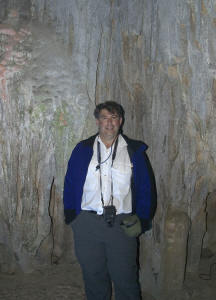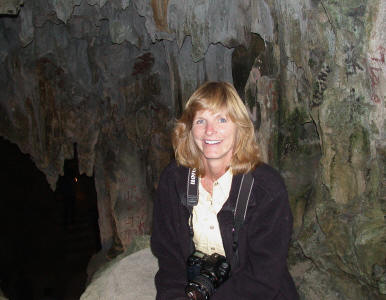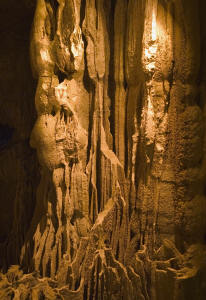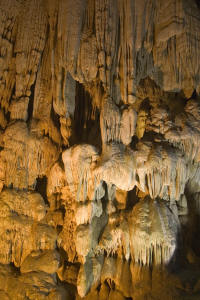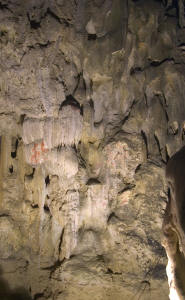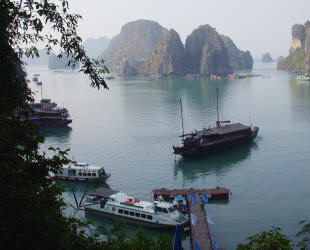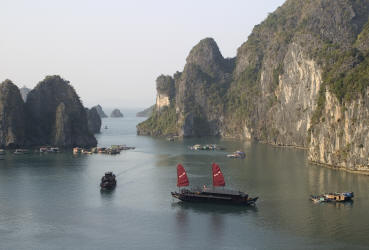 In the afternoon, the junks take advantage of a slight breeze and open their sails for a short ride and a visually pleasing experience.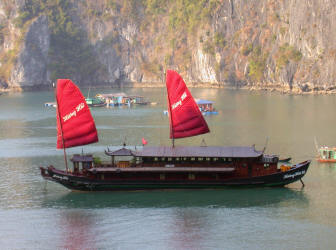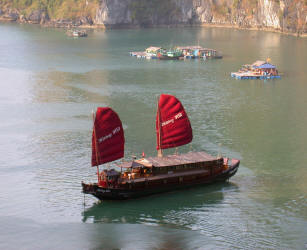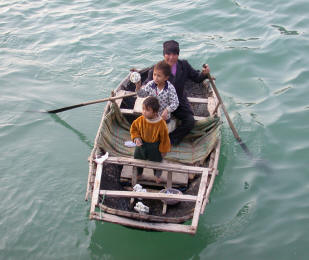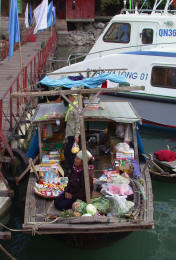 Many people live on rafts, some tied together, and floating in the bay. We pass families with dogs and children carrying out their daily chores as we pass them.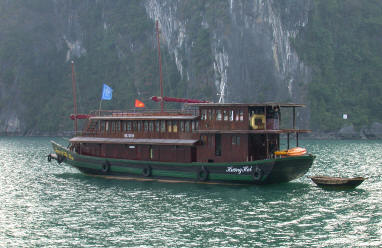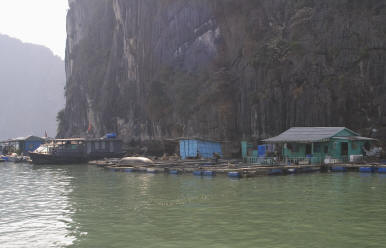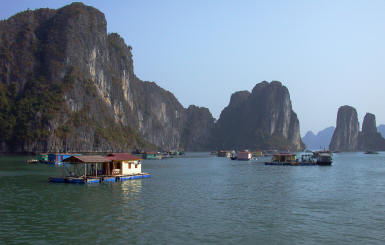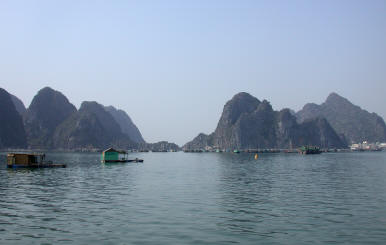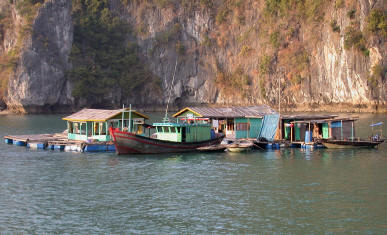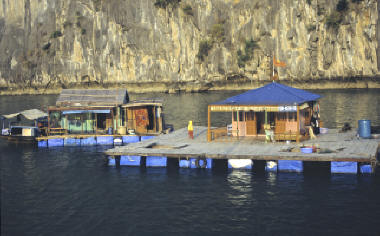 Late in the day, we land at Tiptop Island, named by Ho Chi Minh for the famous Soviet astronaut. We climbed the mountainous steps to enjoy the sunset.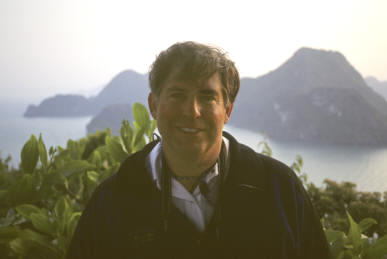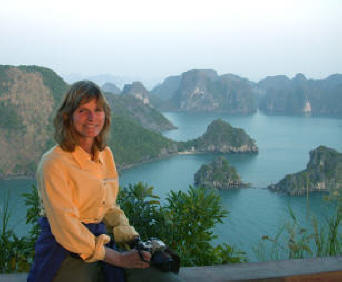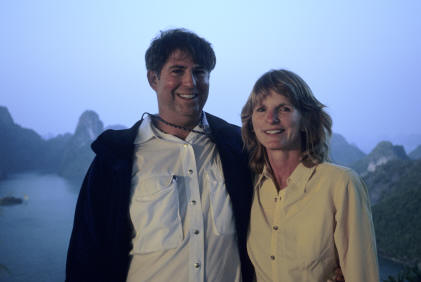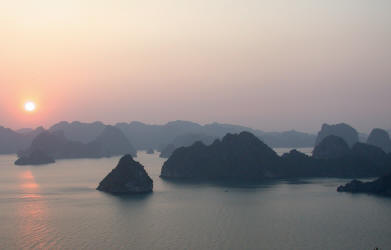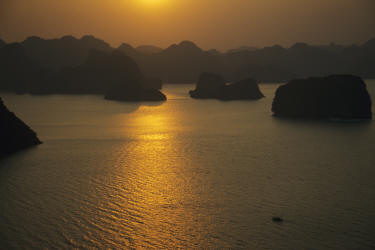 Dec. 20. Sat - We awaken to discover that we have moored overlooking Tiptop Island. We board a small row boat and venture into one of the many sea caves located in the bay, much like the Thai Honigs.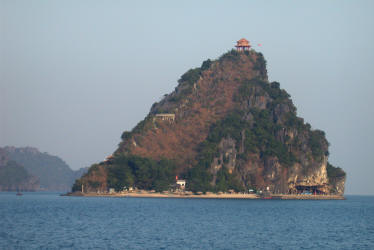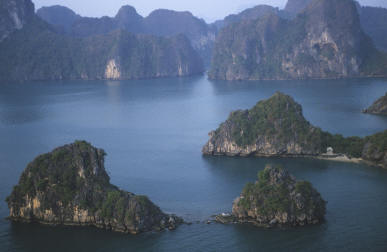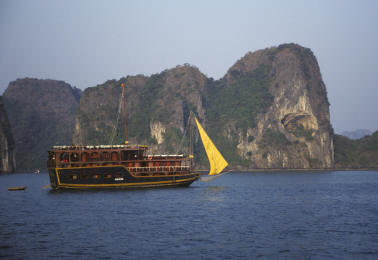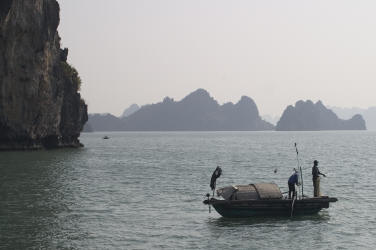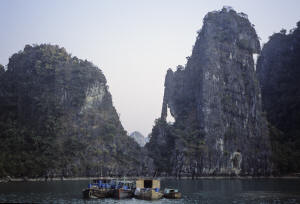 As we leave the tranquility of this beautiful bay, we are aware of the industrialization of the area and the commercial shipping lane (primarily coal being transported) that cuts across the bay, all of which is on a collision course with the environment. Already corporate donations have contributed to the clean up of wastewater along the more popular beach areas. However, the number of people living on the water contributing to dumping garbage and sewage as well as the destruction of caves and beaches by graffiti and vandalism threaten to ruin the bay's scenic beauty. Hanging in the balance is Ha Long Bay's protected status if these issues are ignored.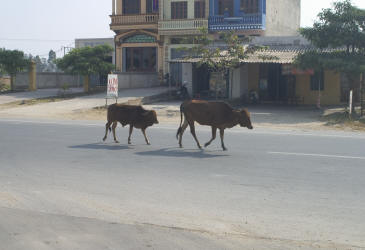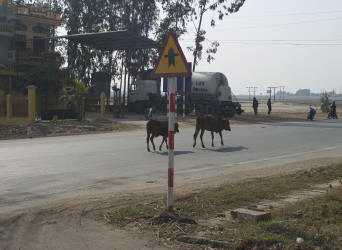 Upon our return to Hanoi, we had time to wander the Old Quarter and visit the markets.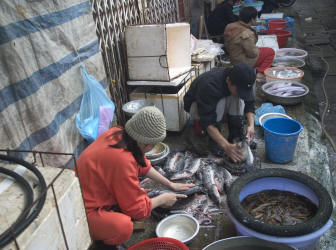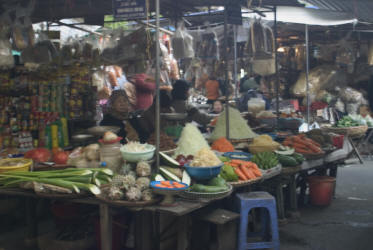 We ate at a local restaurant, Cha Ca La Vong, which was a colorful and fun experience. We ordered our drinks and sat back until our tabletop braizer arrived in which we cooked our fish and vegetables. When ready we added fish sauce, peanuts and cilantro to our noodles and had a feast. By 9:30 pm, we were climbing aboard the Victoria Express train for our overnight journey 236 miles to the northwest of Hanoi to a town called Lao Cai, high in the Hoang Lein Mountains on the border of China.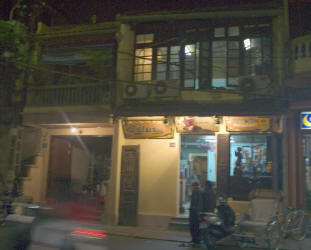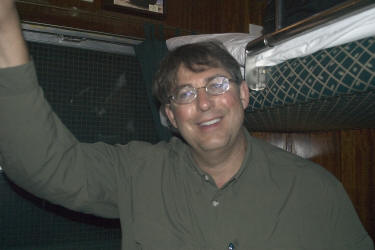 On to Bac Ha