Dec 23 – Fri. We join half the country of Peru traveling by air today in the middle of an air traffic control strike. The first leg of our flight is to Lima and then on to Iguitos where we board our boat for 3 days on the Amazon River. It takes all day but we make it on time along with 30 of our fellow passengers. The ride from the airport to the Aria takes about 45 min with a stop in the town square of Iquitos for 10 minutes of retail bombardment. Lining the somewhat nondescript square is the "Iron Building" designed by the Eiffel Tower's designer. We continue on to the docks which are heavily guarded. The town's economic base is petroleum, lumber and tourism – of which all 3 sectors pass through these docks.
The Aria built in 2011 sleeps 32 passengers and 24 crew. Its owner, a Peruvian entrepreneur, was educated in the US and returned to create this Amazon experience. The boat was built in Iquitos which was no easy matter since the city had no shipbuilding facilities or manpower capabilities.
We arrive on board and check into our room with a floor-to-ceiling window opening out to the water. Dinners are all tasting menus of a mix of Peruvian and continental dishes.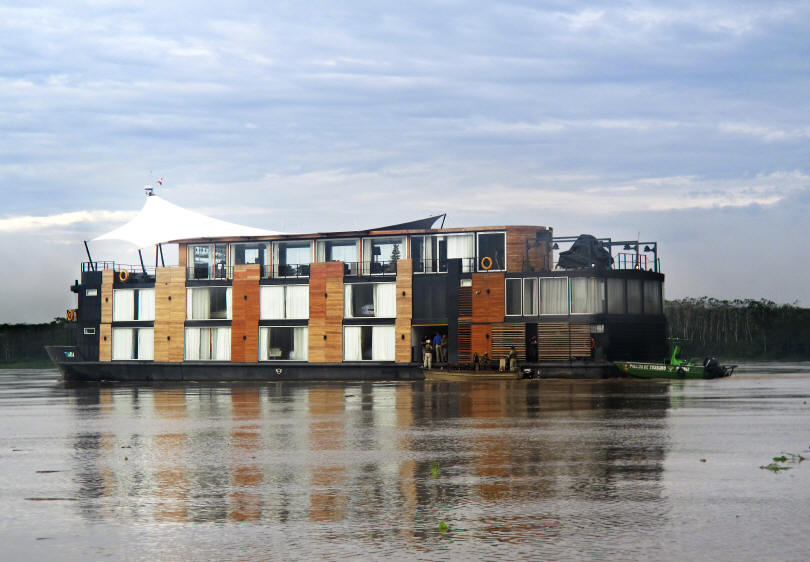 Dec 24 -Sat. Christmas Eve. We begin our first excursion at 6:30 AM with an boat ride along the river looking for sloths, birds and other wildlife forms. Early on, we are fortunate to see our first pink dolphin. They are hard to capture on film since they are no breaching above the water line. Gray dolphins are also moving around us. We do spot several sloths which are hanging high in trees along the river bank. It is slow going since the animal tend to be small and well hidden. Although the Yacapana area is known for iguanas, they are very difficult to spot since they blend into the trees. We did see one this morning.
After breakfast, we motor off to a village in which the local farmer has captured an anaconda. For donations, we handle the snake and have our pictures taken with it. Along one of the channels off of the main river, we stop at a tree filled with common squirrel monkeys that are playing and jumping from tree to tree. Before returning, we stop to fish for piranhas. We are using meat as bait and the fish are hungry. We catch several red bellied piranhas – all are less than 6 inches. We keep them to feed the hawks later in the day.
In the late afternoon, we go out for a final excursion viewing birds, monkeys, and sloths again. This time the heat has made the sloths more mobile and we watch them slowly stretch their legs. We stop in the middle of a wide lake to view a great sunset and enjoy mimosas before returning to the Aria for dinner.

Dec 25 – Sun. We have an early morning excursion to look for more monkeys, birds and wildlife. Immediately we spot a pair of macaws setting up housekeeping in a dead palm tree. As we turn into a small channel we see donkey birds and some common squirrel monkeys. After breakfast, we prepare for a jungle walk by donning rubber boots, walking sticks and plenty of mosquito repellent. In the rainforest we are introduced to a number of trees and plants that are commonly used for medicinal purposes or for poisons.
For lunch, the crew prepared a turkey dinner feast with mashed potatoes, gravy, stuffing, Peruvian style. Although far from a traditional holiday, it was fun having a spot of Yule in the midst of the jungle.
By afternoon, we had dispensed with our daily rain shower and took off again looking for caymans (alligators). There were some fits and starts to our route since parts of the river were log jammed after the introduction of higher water. It took some skillful maneuvering to push the logs out of the way and moved further into the jungle. During daylight we motored about checking for anything that moved. Several pink dolphins were playing in the mouth of the channel we were headed. Around the corner was a large turkey vulture wrestling a fish caught in a old fish net. When it grew dark, we began looking for eyes at water level. Just as we were getting into the hunt one of the skiffs reported trouble and we backtracked to find them stranded with no engine. One of the police boats from the ship arrived to tow the skiff and we took on the remaining passengers. On return we saw several pair of eyes but no definitive cayman outlines. We did spot a red ginkachu (sic). by the time we returned to the boat, the lightning began and it began a continuous pour.
Prior to dinner, we were introduced to all of the crew members and were entertained with music performed by our crew band. Great idea but dinner took on a very late beginning after music and dancing in the lodge.
Dec 26 – Mon. You guessed it, the rain continued all night and there was no let up this morning. Fortunately the crew altered our plans and decided to cruise on up the river to the confluence of two major tributaries to the Amazon: the Maranon and Ucayali, sometimes referred to as the beginning of the Amazon. We returned to the village of Puerto Miquel where we were invited into a local home to meet some of the local children. The sang and introduced themselves and we gave them a rousing rendition of Jingle Bells.
After lunch we began our trip back to the Iquitos Airport. We made a short stop at the Manatee Rescue Center where endangered baby manatees are taken care of until they are able to be released into the wild. Feeding a bottle of high protein milk to these strange creatures was quite unique.
For the remainder of the day and night we will be making our way to Point Arenas, the southern tip of Chile.
On to Patagonia