Jan 9 - Mon. cont'd.
After a plane change in Sao Paulo, we arrive in Florianopolis late afternoon. We leave the island in rush hour and head north to Governador Celso Ramos peninsula where we are staying at Ponta Dos Ganchos Resort. This area was originally an early Azorean whaling community but has since turned into a farming bay for scallops and oysters. Along the northern point there are a couple of small hill side towns that are reminiscent of Italy and seem timeless. Our bungalow is complete with a fireplace, jacuzzi on the deck, hammock, sauna, and expresso machine. What more could we want?
We make a cursory exploration of the resort and then enjoy a glass of wine on our deck before a late dinner in the resort restaurant. We are experiencing some rain showers due to an offshore system but hopefully it will clear tomorrow for some beach time.
Jan 10 – Tues. Here we are at the beach and our touring schedule has taken on a decidedly slower pace, intentionally. Our most active events for the day were walking the short trails on the resort property. Upon completion, we settled down to a morning of reading and coffee then an afternoon of reading and relaxing. The weather is not fully cooperating since we are experiencing squall showers intermittently during the day. Nonetheless we did manage to obtain a bit of color in spite of the rain.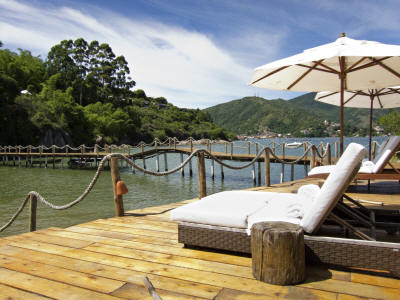 Jan 11 – Wed. It's 10 am and we are starting to think about breakfast. Our day was a potpourri of weather patterns blowing in and out. It was raining and blowing so hard in the morning, one of the umbrellas on the restaurant deck broke. By noon, there was wind but no rain. And we had several hours of sun after 4 pm. Strange day. Meanwhile Jon and I are voraciously reading everything on our Kindles and hoping for one completely sunny, beach day.
Jan 12 – Thur. This is the day in which we will have picture perfect beach weather. Get out the umbrellas and the fruit drinks since we are parked in our lounge chairs for the entire day. We do manage to tear ourselves away for a lunch BBQ on the deck in sight of the beach. At 5, Jon checks in for his well-deserved massage. Meanwhile, Care takes a stroll into the small fishing village adjacent to the resort. Even in late afternoon, everything is quiet and there are few people on the streets since the sun remains quite high.
Jan 13 – Fri. Our last day at the beach and our final day of sabbatical. We reenter the real world as we make our way back home flying from Florinopolis to Sao Paulo to Dulles to SFO.
But first we enjoy our breakfast cappacino personally decorated with our initials. We have experienced all types of hearts, "JP hearts Care", etc this week. Most of the morning is spent taking in the last few hours of sun before we must pack up and head to the airport. We lunch on a final array of local seafood washing it down with Brazilian wine. Before we know it the afternoon rains have appeared on the horizon. Guess its time to take off.