Highlights of Shanghai
April 8, 2000. After checking into the JC Mandarin Hotel located in the heart of the city, we walked down Nanking Road toward the Bund, Wall Street of Shanghai. The city of Shanghai consists of 14.2 million people. As we walk this people-packed route, the road turns into a pedestrian mall lined with shops and department stores plus the big screen broadcast transmissions not unlike Tokyo.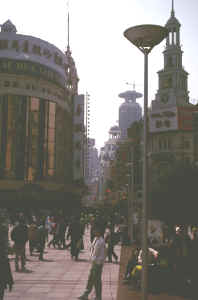 We strolled along the Bund taking in the buildings which were part of the original trading companies and financial establishments. Across the Huangpu River is the TV Tower and the 88- story Hyatt.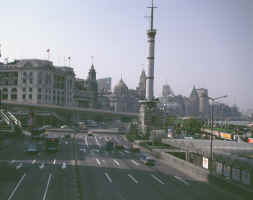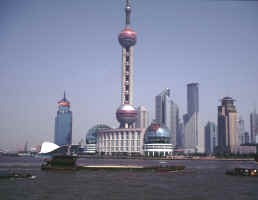 We checked out the the interior of the old grand dame " Peace Hotel" and then cut over at the Peoples Park toward the new Shanghai Theatre and Museum.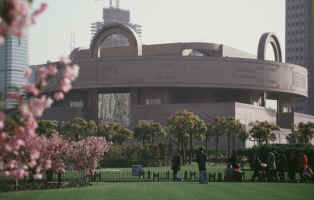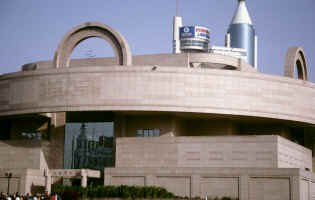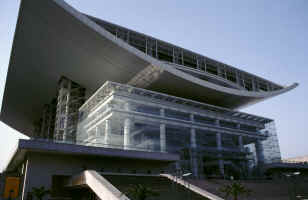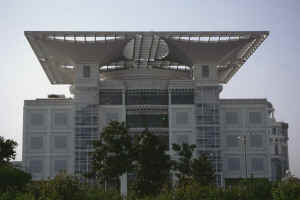 These white buildings were a sharp contrast to the existing pollution laden Shanghai structures. Then we ambled over to the Flower and Bird Market - famous for birds, turtles, skinks, fish, and crickets all presented pleasingly to the visitor in the market's very narrow and cramped alleys .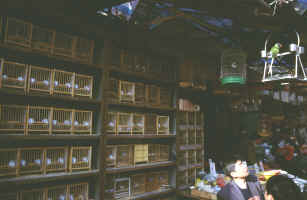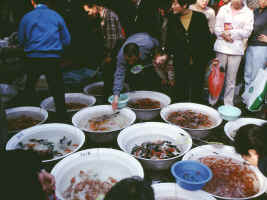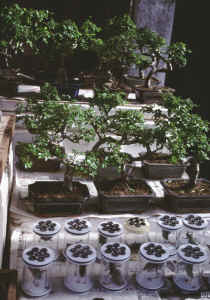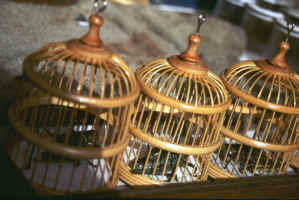 After eating dinner at a restaurant along the way, we returned to the Bund to see the nightlights and the crowds. Student groups frequently stop tourists in order to practice their English. An 11 year old boy approached us this evening - he was so poised and articulate that we spent some time talking with him about our world as well as his life. We capped the night at the Peace Hotel listening to a live jazz quartet.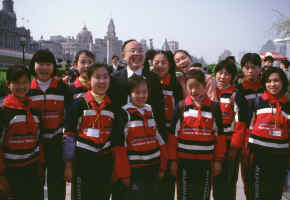 April 9. We were chaperoned today and our first visit was the Jade Buddhist Temple - a working monastery. This was a very animated and live space.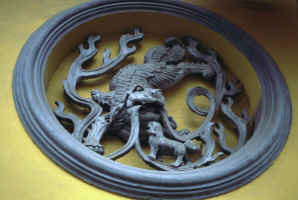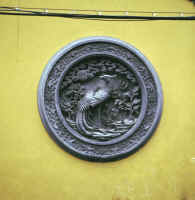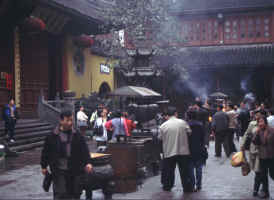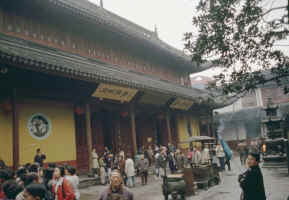 Next we drove on to the Children's Palace where the arts are taught to all ages of students and only the most gifted survive. The remainder of the morning was spent in the Yuyuan Gardens, a 5 acre tea garden and a jewel in the middle of old Shanghai.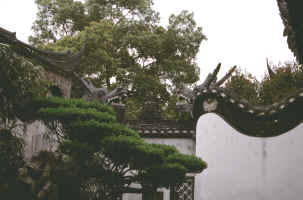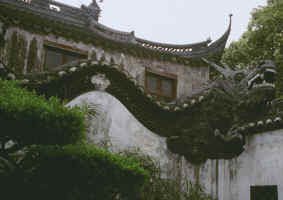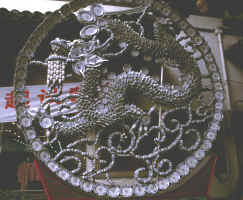 We lunched at a Mongollan hot pot restaurant after which we drove through the commercial PuDong district east across the river. Eight years ago this area was farm land. Today a tower, a replica of the Kuala Lampur twin towers, stands toe-to-toe to dozens of other high rise office buildings and TV towers. The government is offering subsidies to those who will live and work on in this area in order to relieve the congestion of Shanghai and increase the tax base for the area.
Our visit to the modern Shanghai Museum was as enriching on the outside as it was on the interior. The spaces were very well laid out and the exhibits were illuminated based on the latest technology using motion sensors. Jade pieces, costumes, coins, art works, and pottery were presented encased as well as free standing for close access short of touching.
Our next stop was Guilin.