Highlights of Alice Springs & Deep Well
March11, after a short flight from Ayers Rock to Alice Springs we were greeted by Jan Hayes, owner of Deep Well Station and our hostess for the next several days. Jan gave us a tour around the 3500+ town which was once a major stop for the old Ghan Railway. Situated on the major North-South highway linking South Australia to Darwin, 'Alice' is also home to the Pine Gap radar tracking facility operated jointly by the US and Australia for military use and space missions. Centered in Alice is the "On Air School" that is attributed to the radio method of teaching the children located on the outlying stations.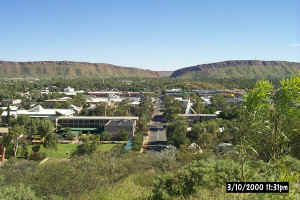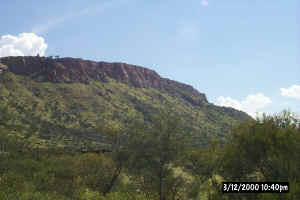 Bill Hayes is the fourth generation of Hayes raising cattle on the surrounding land. Bill's great grandfather came to Alice to substitute telegraph poles for the original wooden poles. The original founder of Alice was a telegraph operator whose wife was named Alice so her name was used in conjunction with a spring (actually only run-off from the hills) at the edge of town.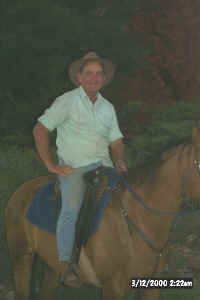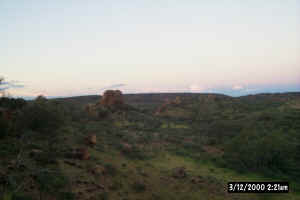 Today Bill, his son Billy Jr. and his son-in-law Sal ranch the 450,000 acres called Deep Well Station. Closer to town is another station, Oolong (sic), run by Bill's brother,Ted. In addition to raising 4-5,000 head of high quality Pol Herefords, Bill has a stable of horses which he enjoys riding and having his guests use.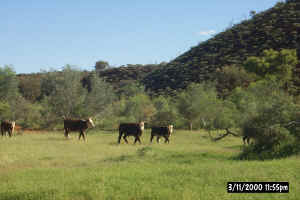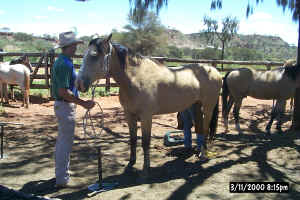 Jan's business is centered around the Deep Well Homestead where the main house is the center of her tourist activities. A large BBQ area, swimming pool, coral and bar area are used by groups who come out for a taste of Australian hospitality and a night swagged out under the stars. In addition recently Ted Egan's movie company completed the shooting of "Drover Boy" and the entire set as built for the movie is in-place.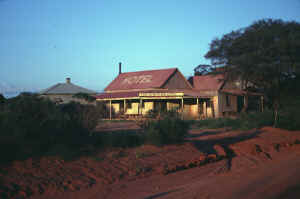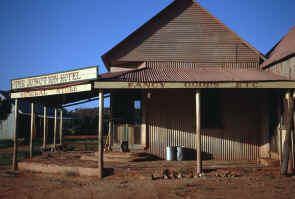 In fact our bedroom was part of the jail. Since the finals had not been cut for the movie yet, no major changes could be made to the buildings or the exterior. This meant we could not open the windows, have screens or electricity in our room. Fortunately Jan and her staff had just finished building the adjacent bathroom for us (the concrete was wet). But we opted to have creatures rather than heat so we fired up our muzzie (mosquitoes) coil and flashlight and had a good time.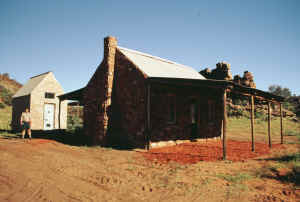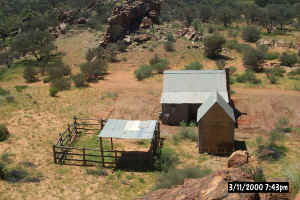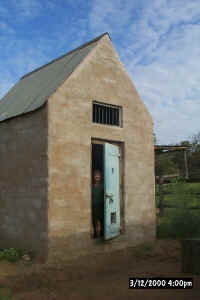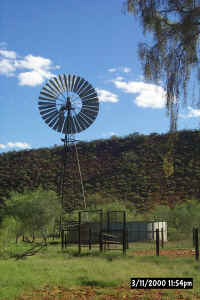 The next morning we had brekkie at the main house and I had my initiation into "veggimatic", a yeast supplement from Kraft that Aussies seem to respect. We were joined by a fellow from Colorado, Jim Burke, who was touring Australia for three months in his van. We hiked our around the immediate area during the morning and then Sal took us out to the cattle paddocks on his routine rounds of checking the livestock and water. Water is from rain or deep wells, ~520 ft etc. Needless to say all of our meals contained beef..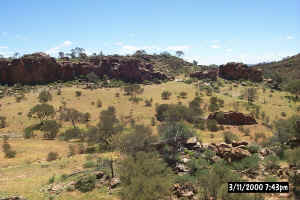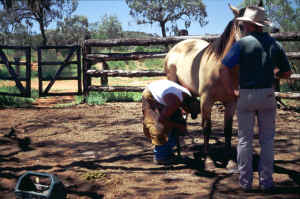 We spent some time watching the local blacksmiths shoeing the station's horse population. A very old profession that takes a pinch of horse-whispering and a lot of patience. Later, Bill talked Jon and I into a horseback ride to see the sunset. We borrowed some boots and hopped in our saddles. Bill led us to some beautiful areas that had a great view over the ridges surrounding the ranch.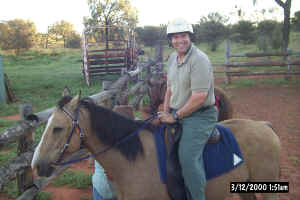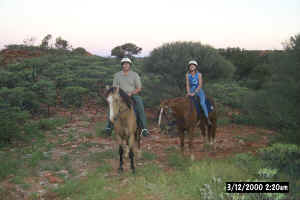 Prior to leaving Deep Well and Alice, we spent the afternoon doing some shopping for some local art and then visited the Desert Park, which is much like the desert museum's in Tucson and Phoenix. We then boarded our flight north to Darwin.